Making a Booking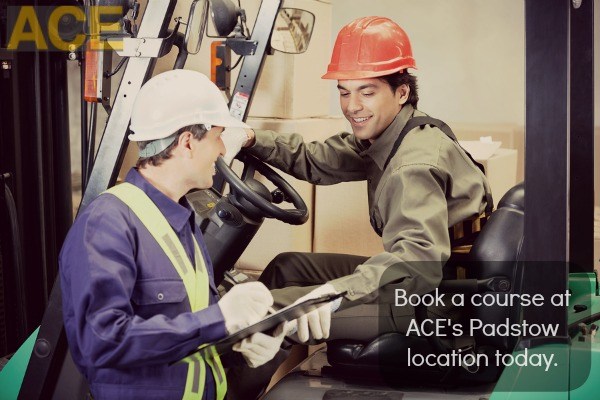 How do I make a booking for a course at ACE Forklift Training?
You can choose one of the following methods when making a booking for a course at ACE:
On site: Your company can email or phone ACE with their preferred days and numbers. We will then verify availability, and once the booking is made, the manual and invoice will be forwarded by email (invoice must be paid within 7 days of receipt).
At school: You can email, phone or drop in to the ACE office to confirm your booking. Students booking themselves in must pay a $200 deposit, with the remaining fee due the morning of the course. Once the booking has been confirmed, the student will be given their manual.
Online: You can enquire about bookings for ACE online using our handy form to the left. We will respond to your enquiry by phone or email.
What will I need once I've made my booking at ACE Forklift Training?
All learners that are applying for their licence assessment with a workcover accredited assessor are required by law to provide 100 points of ID during their training.
Accepted forms if identification include the following:
70 POINTSPrimary Documents: Only use 1 primary document

Passport: current or expired with the last 2 years, but not cancelled
Birth certificate or birth card: Issued by the Register of births, deaths and marriages
Australian Citizenship Certificate

40 POINTSSecondary Documents: If you use both a credit and savings card these must be from different banks.You are allowed to use a combination of secondary documents

Current Australian Driver's Licence
Current Australian, State or Territory Photo/Proof of Age Card(E.g. NSW RTA issued photo card)
Current Australian Learner Driver's Licence/Permit
Current NSW Boat Operators licence (with photo)
Current NSW Firearms Photo Licence
WorkCover NSW issued licence (with photo)
Australian Police or Dept. of Defence Card (with photo)

25 POINTS

Medicare Card
DVA Card
Centrelink Card
Property (Council) Rates Notice
Motor Vehicle Registration Papers
Motor Vehicle Insurance Papers
Telephone Account
Utility Bill (e.g. water, electricity, gas)
Property Lease Agreement
Credit cards
Savings card or bank statement