Latest Course Information
ACE Forklift Training Courses
Ace Forklift Assessing has now relocated to 8 Nelson Avenue Padstow 2211.
ACE Forklift Training and Assessing pride themselves on their dynamic and interactive Forklift Courses. Specifically tailored to meet individual and industry needs, you can rest assured you'll be able to find the right package for you or your employees. Enroll in our Forklift Training Courses at a day and time that suits you – choose from the following:
Monthly Specials
End of year financial special for group bookings
Book 5 people and get 6th person for free!
Special available only when booking between dates 1/7/21 until 31/7/21.
Terms and conditions apply. Full payment must be finalised minimum 72 hours prior to attendance.
Available only at our training facility in Padstow.
Employment Opportunities
For candidates seeking employment, please speak to the ACE team to point you in the direction of our employment board as we have several agencies urgently looking for forklift drivers ASAP.
COVID-19 Updates
We will still be open during COVID-19 offer electronic courses. Keep a lookout for our promotional deals over the next few months as we will be updating them regularly as more news is released about the status of COVID-19 here in Sydney. Our training unit is an open-air warehouse with no air conditioning. More information can be found on the COVID-19 updates here.
Ace Forklift Assessing have a COVID-19 Safety Plan in place along with new policies and procedures.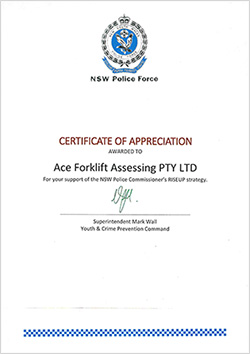 On-Site and In-Centre Forklift Training Courses
ACE holds in-centre Forklift Courses every day of the week at our state-of-the-art Training Facility in Padstow. If that's a little far for your business, we also accommodate on-site Forklift Training courses at your premises! ACE training providers frequently visit the following locations to deliver tailored Forklift Training courses to four or more staff:
Verification of Competency (VOC)
Some large companies are now requesting a Verification of Competency (VOC). If the training has been done recently and by a reputable organisation, this should not be necessary. However, a lot of contractors are now finding this to be another hurdle they need to jump over. Be careful who you use for this service. Some VOCs issued end up being fraudulent documents that cannot be used in the workplace. Check the qualifications of the people who are actually issuing the VOC and that it is not just a tick and flick to issue it. The VOC should ensure that the worker has been given adequate instruction and training, having regard to:
The nature of the work carried out by the worker
The nature of the risks associated with the work at the time of the information, training and instruction, and the control measures implemented
Information, training and instruction is provided in a way that is readily understandable by any person to whom it is provided
Whether it can also be contextualised for the company's needs.
Once training is successfully completed, a Statement of Attainment or licence is issued. There is no set expiry date for a VOC certificate. The length of time that the VOC is valid for largely depends on the requirements of the company requesting them.
Ace Forklift Assessing is now offering training on-site for specific forklift attachments. These include the rotating drum clamps, jib attachments and carpet spikes. Other specified attachment training is also available for training on-site.
This is on-site training only. No attachment training is available at the Padstow training unit
Courses require a minimum of 5 staff to attend.
The average course time is 3 hours, however this can vary depending on independent clients training requirements. All participants must hold a valid forklift licence and will be required to providence evidence of licence at commencement of training.
Ring or email our office for cost and further information.
Refund Policy
We do require 72-hours notice if any changes to a booking are to be made. For more information on the refund policy, call the office and a member team will happily explain.